As we age, our faces begin to sport the wear-and-tear of our lives, articulating accomplishments, stressors, and experiences in fine, as well as deep, lines across our delicate skin. No one wants to feel exposed for their age, in plain sight, from the presentation of their face. In contributes to decreased self-esteem and confidence. We want you to feel like you again.
Anti-Wrinkle Injections, more commonly known as Botox, are the world's most popular anti-ageing procedure due their effectiveness at reducing the appearance of fine lines and wrinkles caused by muscle contractions. Botox can be administered in various parts of the face but has the most profound effect in the muscles of the upper face, such as the vertical lines in between your brows, horizontal lines that run across your forehead, and the crow's feet at the corners of the eye.
Anti-Wrinkle Injections – The Procedure
We carry out an initial consultation to determine your suitability, how many areas we will treat, and the necessary information you need to know throughout the process. The procedure itself only takes about 20 minutes and is relatively pain free with people describing it as 'pinchy.'.
Results can be seen in 2 weeks, some may see its effects before this with the lines smoothening out and presenting a fresh, 'I've had a great night's sleep look."
Results will last approximately 3 to 6 months depending on the person.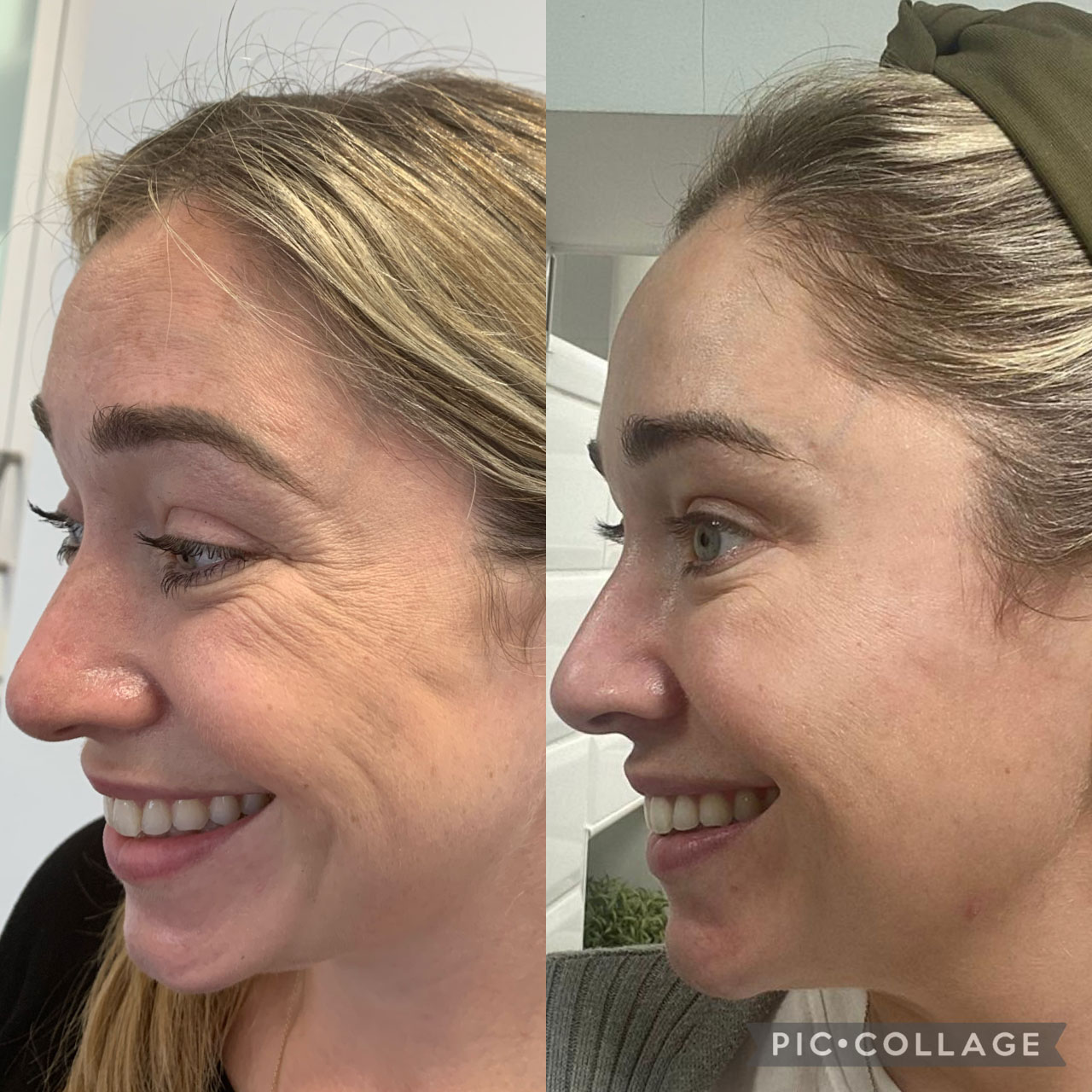 Treatable Areas with Anti-Wrinkle Injections
Frown Lines
We can't help but make expressions. For some of us, that's frowning – a lot. Frown lines can occur in the forehead in a vertical or horizontal pattern.
Vertical frown lines are those that occur between the brows and can become quite deep and well defined over time. Another name for these is the 11's! People often think these lines make them look "angry," all the time, when this is not necessarily the case.
Horizontal lines run across the forehead. These are usually seen when one raises their eyebrows. Small injections given across the forehead soften these lines.
Crow's feet are the lines that fan out from the corners of your eye. For some people, these are more obvious when they smile big; for others, they can be seen at rest. Depending on how much you use these muscles, your age, gender, and ethnicity will all affect the line depth. Those who have been exposed to a lot of sunlight without eye protection may have more pronounced crow's feet.
Proactively fighting these lines early can produce greater results over time. When these lines are continuous and fan down to the cheekbone area, a combination of Botox and filler work synergistically to restore smoothness and volume to the area. Loss of volume around the mid face/cheek can pull on the area at the corner of the eye to worsen the crow's feet. By anchoring up the skin at the cheek, it provides a platform for the skin above it to sit, not sag.
Bunny lines
Bunny lines are the lines that appear when you scrunch up your nose. Small injections given on the side of the nose are very effective way to smoothen them out. Results can be seen in 2 weeks and will last for approximately 3 to 4 months.
Smokers' lines
Smokers' lines are the small lines that appear across the top of the lip. They are more prominent in smokers, but even everyday people lacking elastin can wrestle with the lines.
As we age, our collagen banks deplete and we lose elastin from our skin, causing a laxity… thereby making these lines become more obvious. Small injections are given above the lip to smoothen these out and prevent them deepening.
Results can be seen after 2 weeks. A combination of other treatments e.g. micro needling, profhilo, PRP, and dermal filler may be recommended for improving these lines. As the area above the lip is quite a thin tissue, we want our results to be totally natural looking.
Brow lift
The most effective brow lift is achieved when we treat the area in between the brows on their own without treating the upper forehead. This is because one muscle raises and the other depresses. As we age, gravity takes effect, and our eyelids can drop over time and becoming heavy. My clients often say to me, "I find it hard putting my eyeshadow on with my eyes feeling very hooded."
By treating the area around the brow with several injections, we can achieve a 'chemical lift' typically raising the brows by a few millimetres. Results are softer than going for the full surgical brow lift, providing an all-natural appearance that will help you gain your confidence back.
Excessive sweating
The procedure usually takes approximately 30 to 45 minutes and is relatively painless.
How Do Anti-Wrinkle Injections Work?
Small injections are administered causing the toxin to bind with the muscle and reduce its activity.  This in turn will soften or remove existing lines depending on their depth and strength of the muscle prior to treatment.  
The skin will appear smoother, wrinkle free and youthful. 
FAQ's
Who is suitable?
One of our Doctors will take a detailed medical history and an assessment of your needs and expectations to ensure this is an appropriate treatment for you. Botox is a prescription- only medicine. This means that you MUST have a face-to-face consultation with a licensed prescriber to assess whether you are suitable for treatment. *This MUST be with a doctor, dentist or nurse prescriber.
Results/How long does it last for?
Within a few days, you will see noticeable improvements. Lines continue to improve for up to one month. In clinical trials, nearly 90% of men and women rated the improvement in their appearance as moderate to better one month after treatment. After treatment, the skin around the treated area will look smooth and less wrinkled., while the rest of your face will not be affected. The untreated areas of your face will be able to move as normal, laughing, smiling and frowning, but with less wrinkling!
Does it hurt?
A very tiny needle is used for the procedure. Discomfort is usually minimal and brief. Prior to injecting, the area to be injected can be numbed with a cold pack or local anaesthetic cream. The entire procedure takes approximately 10 minutes in duration and once the injection is complete, there is usually no discomfort. Many people are in and out of the clinic without downtime following treatment. You can drive immediately after treatment and go about your usual activities.
Start Your Journey
Facial Rejuve Clinic offers a diverse range of aesthetic treatments to showcase your skin at its very best. Speak to one of our staff members today to start your own journey